Why choose a career in the automotive industry?
Worth more than £78.9 billion, the automotive industry is a vital part of the UK economy and employs over 864,000 people.
In recent years, due to all the technology changes in the industry, working within the automotive sector has become increasingly exciting and so much more than just getting under the hood of a car.
To be a car mechanic today it's no longer a case of just changing oil and performing minor repairs, it's a highly precise trade and skilled vehicle technicians have the ability to diagnose and repair the most complex of problems while understanding the mechanical theory behind each automotive system, the computer controls behind them, and the electronic network that links it all together.
Building a career within the automotive industry
Being a mechanic was once considered a job for life, you found a job in a garage and stayed until you retired. Today a career as a mechanic can be so much more. Thanks to the evolution of the industry and new technology and fuels coming to the forefront, there are so many career opportunities. Vehicles are like giant computers and the industry is competing for talent alongside digitalised industries such as gaming and computing.
A career in the sector can be wide-ranging and continually evolve along with the development of new technologies. There are real opportunities for ambitious mechanics, from entering the industry with a Level 3 qualification, through to becoming a diagnostic or master technician. This could then lead to becoming a Service Manager or a Quality Manager, and even lead to a role as a Brand Director. The career path can pay well and be highly rewarding.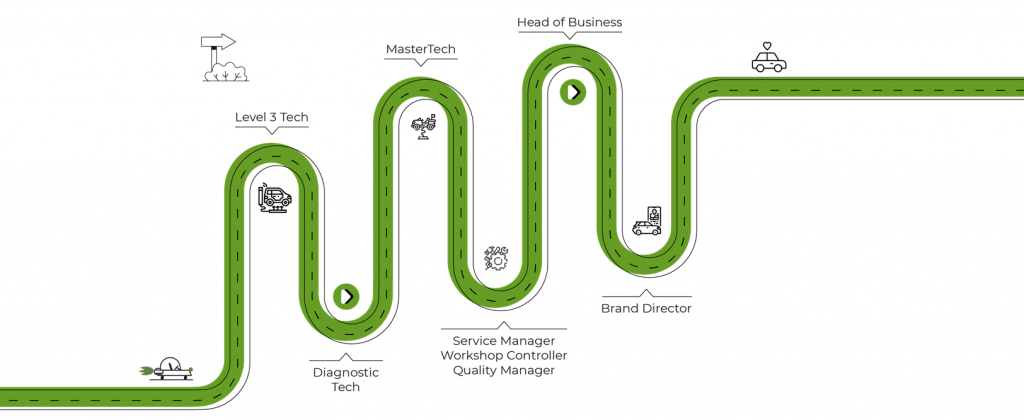 Challenges to securing a first role within the automotive aftermarket
The automotive industry has faced a skills shortage for many years. Couple this with the departure of an ageing, retiring workforce and the industry is increasingly seeking new talent to join its ranks. One of the main bottlenecks to recruitment is time on the part of garage managers/owners. Faced with high demand for services, an employer will frequently choose an experienced mechanic over someone who is newly qualified as they don't have the time to vet and recruit them and offer any additional mentoring. As a result, up to 10,000 students, armed with a Level 3 automotive qualification, are lost to other industries each year as they struggle to secure an automotive role. While armed with theoretical knowledge, they have limited practical experience which deters some employers. This is why Autotech Group created an Academy division with an internship programme to help newly qualified automotive students get a foot on the career ladder, while supporting employers.
Who are Autotech Group?
Autotech Group is the UK's largest employment and training solutions provider for the automotive aftermarket. Its Autotech Recruit division operates the UK's largest contractor network of vehicle technicians and MOT testers who are increasingly sought after by car manufacturers such as Ford, Skoda, Toyota and BMW, along with dealerships, independent garages and fast fit companies. The company's Autotech Training division, which was created to not only upskill its 480 strong network of contractors, but the entire industry, has forged partnerships with leading training providers including Bosch and ZF Aftermarket and is now a leading provider of IMI Levels 2-4 electric/hybrid vehicle training.
With links to automotive employers and colleges, Autotech Group created Autotech Academy to smooth out bottlenecks in the recruitment of newly qualified mechanics. Based on a paid internship model, Autotech Academy is set to create a cohort of skilled, experienced vehicle technicians which will help sustain the future of the industry.
What is the Autotech Academy internship?
Autotech Academy's internship programme is available to students who have qualified with a Level 3 award in vehicle maintenance and repair. Through Autotech Academy, college leavers are vetted and interviewed by the Academy team before being placed into a garage or maintenance repair business on a paid internship lasting from 3 to 12 months, depending on qualifications and area of interest. Autotech Academy pay the intern a monthly wage, provide them with all the necessary equipment they need including, a Teng Tools tool kit worth over £1,000, and, if required, standard PPE, and uniform.
Ongoing training will also be offered via a manufacturer training course, or an equivalent standard training partner such as Bosch, along with Level 2 IMI electric/hybrid vehicle training. Throughout the duration of the placement, the garage assigns a mentor who the intern can shadow until they can begin working independently.
Does the internship pay?
An intern can expect to earn an hourly rate above the minimum wage. Not unlike Autotech Recruit's temporary recruitment model, where garages pay an hourly fee for mechanics, garages, or any maintenance repair employer, will pay an hourly rate for an intern. Autotech Academy will also equip them with uniform if required, and a toolbox worth £1,000 which is the interns to keep and build upon when they transition to permanent employment.
How does the internship differ from an apprenticeship?
Autotech Academy's internship opportunity is a viable alternative for students who have chosen college over an apprenticeship route as students don't repeat learning and instead, apply the skills they have learned at college in the workplace. In addition, as an internship is only available to students who have achieved a Level 3 qualification in an automotive subject such as in Light Vehicle and Maintenance Repair, they wouldn't need to attend college weekly as an apprentice would.
What happens after the internship has finished?
At the end of the internship, the intern could be offered full-time employment by the automotive employer. If not, they not only have the theoretical knowledge as a result of their college course, but several months' worth of experience under their belt to help them secure another role within the automotive industry.