Despite a push to create a more diverse automotive workforce, there is still a gap between the ratios of men to women. This may be down to more social stigmas and the jobs women are perceived to fit into. We know that whether you are male or female you can do anything you set your mind to. An area that seems to show most improvement in the increase of females in the industry, whether in a working role or volunteering, is the Motorsport sector. Below is an inspiring case study from a woman that we met at Santa Pod, who has made her way through roles in this sector ignoring or pushing through any social stigma or boundary she may have faced.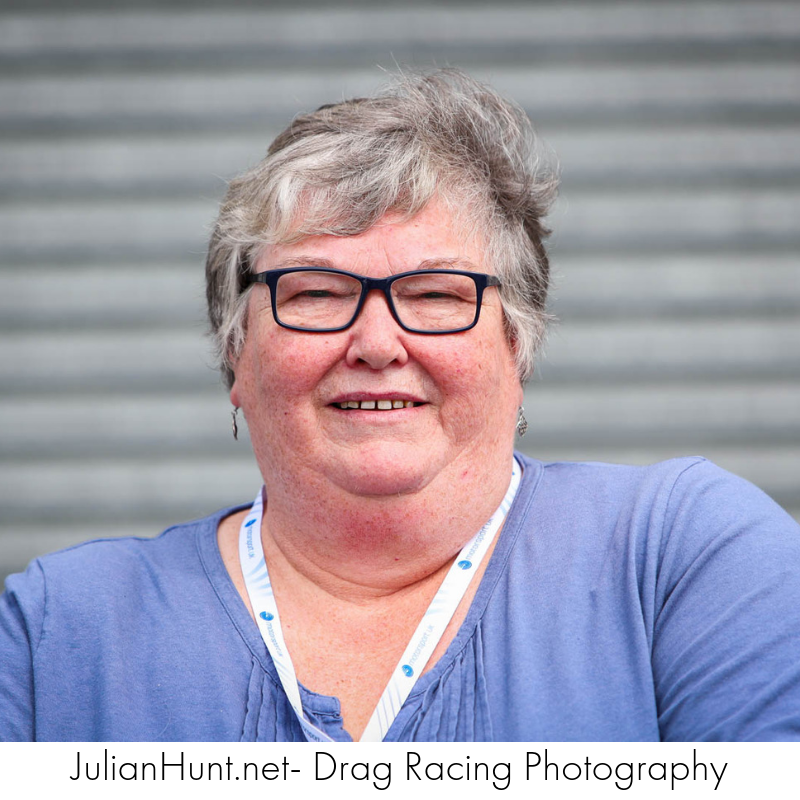 Name: Elaine Brice
Sectors: Motorsport UK, Formula Student, MGCC, VMCC and BMMC, CMMC, (All motor clubs.)
Role:  Motorsport UK steward, marshal, Rally Radio Operator and trainer.
"I got into the industry when I volunteered to become a marshal in 1999. There weren't that many female marshals at that time, despite there being no real barriers. I attended training days each year and gradually rose through the various grades, finally becoming an examining post chief, examining specialist as well as a trainer.
Due to arthritis I had to give up being a post chief. I adapted and moved into rallying as well, being a radio car operator on many rallies, I found there were no barriers there either other than cost of equipment. From there, I decided I would like to be a steward. My husband was already one and I felt I was quite capable. I believed I had the experience and skills required, so I applied, interviewed, completed pre-training, then did actual training with other stewards, got my log book signed off and finally was appointed, by the previously known Motor Sport Association, as a steward.
My role as steward is to ensure that motorsport events are run to regulations and safely I am the representative of Motorsport UK at the circuit. I am also there to advise and assist officials if they need it. I have to deal with judicial matters, if someone has broken a regulation, then the clerk decides the penalty for the offence, but if the competitor is not happy with it they can appeal to the stewards of the meeting, which is myself and two club stewards. We then review the evidence, see if we agree there was an offence and then decide if the penalty is justified. Put simply it's a little bit like a court, it is an important role to have.
I also hold other roles, as a marshal I answer either phones or radios in race control and pass on information to the clerk of the course. When working as rally radio operator I pass messages regarding things in my sector, often out in the forest, to the radio controller, we are the eyes of the clerks. Finally as a trainer, I train marshals of all disciplines to help maintain standards.
Ultimately I have found there aren't any barriers, it is down to experience and having the skills to do the job. Generally, I haven't had many issues with being a female steward, I think a very few of the older clerks are not too sure at times, but I do my job and don't let it worry me and I love it!
The part I enjoy the most about being a steward is meeting new people and doing what I can to help them run a safe meeting following the regulations. As a trainer I love passing on what I have learnt over the years to others. My aim is always to help them not hinder. I am very privileged to be able to access all areas so I can get up close, always with safety in mind. As a marshal I love being close to the action and fulfilling a role to the best of my ability. I love motor sport.
The hardest part for me is the judicial, I don't like punishing people, but discipline has to be maintained or it becomes dangerous, so you have to be firm but fair. But this is outweighed by everything else, I'm interested in everything I get to do, for example learning new things about different motorsport disciplines, travelling to new circuits and meeting new people.
There are undoubtedly barriers in the workplace, I was told as a teenager I wouldn't get a job in catering because they would assume I would get married, have children and leave, thus wasting their training. I am now an accountant by profession, well known for the glass ceiling but I didn't let that stop me, I now run my own practice.
I think one of the biggest barriers in motorsport is in women's minds, they see it as a male dominated sport and think that they won't be accepted but until you try you will never know, and I can tell you, you will be accepted! There are now many female marshals and officials at all grades in the sport, all over the country and the number is growing all the time.
I was brought up to believe I could do whatever I wanted to, it didn't matter that I was a girl, as a result I have never let that stop me going for what I wanted to do, I did my own car repairs and maintenance, I played cricket and football was secretary to the men's football team, became a trade unionist and was shop steward. I sat on the local committee and then a national committee fighting for women's rights at work, the right to be treated equally, equal pay for equal work. I also attended the TUC conferences.
To any young person looking to get into the industry I would say go for it! Don't let anything stop you from trying, and believe in yourself, how can you ask anyone else to if you don't? Be confident.
Identify your strengths and work to them, identify your weaknesses and work on them. Skills vary among both sexes, but use what you have i.e. small hands can get into an engine much more easily than large ones. Never give up, if you can't make it work one way try another.
When I had to give up going on the bank due to arthritis, I had to focus on what I could do, not what I couldn't do, hence I took up rally radio. And most importantly, learn from those around you, we all learn from each other whatever we are doing."
"I just simply believe that a woman should be able to do whatever she wants and not be prevented from going for it by others or the fact they are a woman, they are a person!"
For more information on motorsport visit www.motorsportuk.org or www.Santapod.co.uk