The IMI Skill Auto competition is now in its 9th year and it has found some of the most amazing talent in the retail automotive industry in Light Vehicle, Heavy Vehicle, Body Repair and Refinishing.
We caught up with some of our previous finalist to see how life has changed since they entered the competition…
MICHAEL MASSEY: From Gold to dream job and IMI Skill Auto Judge 
Michael Massey 3M 
Once the competition had finished, I was very happy with my performance, knowing that I'd given it my all, I got suited up ready for the medal ceremony. Gobsmacked and speechless, I walked on stage to my name being read out as the Gold medallist. The winner! I had no idea the ripple effect this was going to have on my career.
Since then, I returned to work and completed my apprenticeship. I worked hard on building bridges and making the most of opportunities given to me. I was also determined to create opportunities for myself. A mixture of magazine articles, online write ups and even an appearance on state at IBIS Ireland helped me try to make a name for myself. The more I said yes to, the more people I met and made connections with.
Through this I was nominated for an Outstanding Individual Achievement award from the IMI and was also asked to be part of the IMI Skill Auto judging team, an honour. I delightfully accepted the role!
I learned of a job opportunity at 3M in Atherstone through the IMI Competition Manager, David Massie. Where I had been both a competitor and more recently a judge at the competition. After numerous conversations, a job application form and an interview I received the amazing news that I got the job. I start my role in early October as an Application Engineer. I will be traveling around the country working with clients, implementing training, introducing new products into body shops and troubleshooting any customer issues.
Without the hard work from Chesterfield College, and support from Alton Cars and the guidance from the Skill Auto team at the IMI, none of this would have worked out. So for that, I'm forever grateful and I will work hard to repay them."
BEN EATON: From Apprentice to F1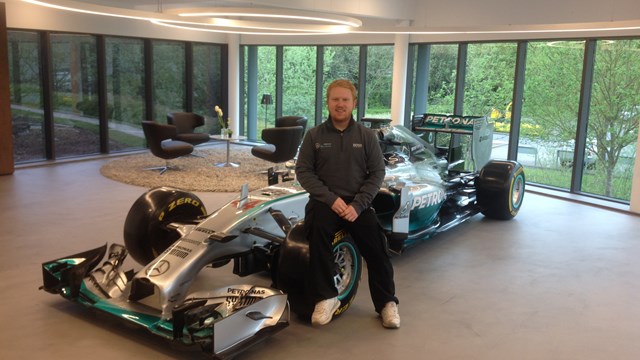 Ben Eaton – Mercedes AMG Petronas F1 Team
Ben was awarded the Bronze medal at WorldSkills London 2011 when he represented the UK in Car Painting.  Having trained at the Thatcham Automotive Academy, Ben's work at WorldSkills impressed Mercedes AMG Petronas and he was invited to join their apprentice programme.
Now a composite paint technician in the paint and graphics department at Mercedes AMG Petronas F1 Team, Ben is responsible for painting Lewis Hamilton's car.  This involves Ben travelling all over the world, ensuring the car is race ready ahead of the Formula One Grands Prix.
Continuing to work with WorldSkills UK, Ben has supported the training of Team UK members and is a judge for SkillAuto, part of the WorldSkills UK National Competitions.  Ben said:  "This is the job I dreamed of doing as a kid and it really is thanks to WorldSkills UK that I am doing it." 
DARYL HEAD – Silver Medal on the World stage in Refinishing 
Could you be the next IMI Skill Auto champion?
If you want your name up here in the IMI Skill Auto 'Hall of Fame' then find our more and  register your interest here https://www.theimi.org.uk/landing/skillauto/