Making a financial commitment to buy a new car can be difficult and expensive depending on the model that you are looking to purchase. But with dealerships and manufactures providing finance options, you can purchase a new or used car that works for you and your family. In this article, we will be providing insight into how financial institutions are making buying a car more accessible to those with limited budgets.
The Buying Process
When a customer looks to buy a new car, there are five contributing factors that they consider when selecting a vehicle to purchase. These factors include:
Durability/Reliability
These factors are valuable to the sales process as nearly half of buyers consider the monthly cost of the car, compared to the total price as indicated by the figures in the table below. Due to these figures, there has been a significant increase in the number of financial aids provided by dealerships to make purchasing a car more appealing and help to aid customers in their buyer's journey.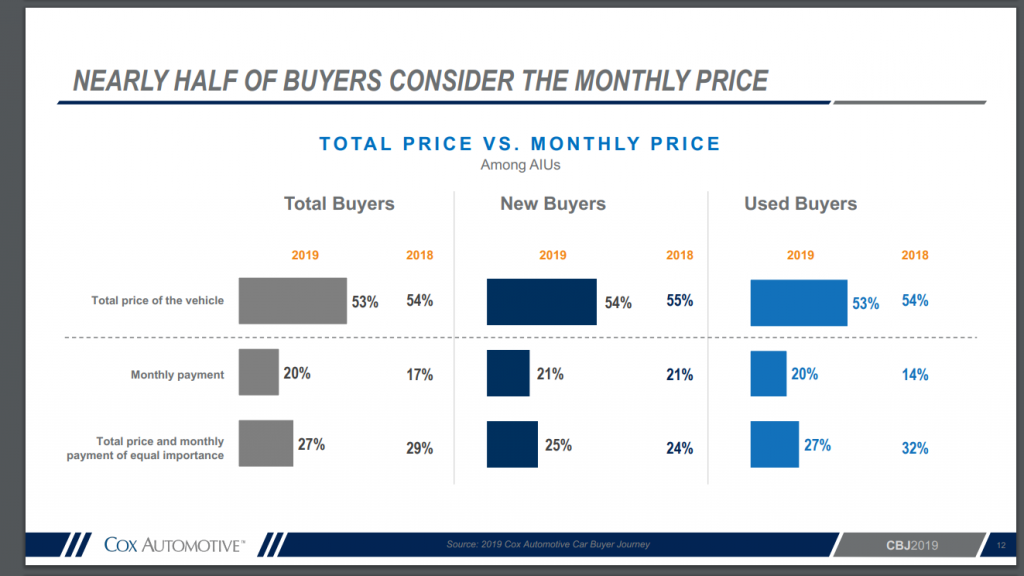 Source: https://b2b.autotrader.com
Report Name: 2019 Cox Automotive Buyer Journey Study Research Desk
Financing Options For You          
As affordability becomes a top priority for customers looking to buy a new car, dealerships and manufacturers have begun to implement specific deals and deposit contributions to aid the sales process and draw potential customers in. As a result of this, there are a number of financial aids on the market to help make the cost more affordable. Finance options have been around for a number of years now with cash advance loans such as a short term or payday loan reaching by June 2018. Because of this demand for alternative finance options, dealerships have begun to create financial options of their own to encourage people to buy.
Personal Contract Hire Finance
One of these financial options that could be available to you is personal contract hire, this is a finance option for those that are looking to change cars regularly as there is fixed monthly fee with no option to own the car at the end. However, this is completely dependent on the dealership that you choose as they may offer you the chance to sign up for shorter-term contracts or longer if you prefer.
Personal Contract Purchase Finance
This is a loan to help you get a car but unlike a normal loan you will not pay off the full value of the car and you have the option to purchase the car at the end of the contract should you want to.
Though this can be a complex process, this loan can be broken down into three key areas the first of which is the deposit. The at the time of purchase, however, some car manufacturers offer a contribution to this deposit of around £500 to £2000. This is significant if you are looking to take their finance as the larger the deposit the less you will have to borrow.
In addition to this, the price you'll have to borrow is based on how much the finance company predicts the car will lose in value over the course of the deal minus the deposit you put down when taking out the finances.
If you decide to keep your car at the end of the contract, there is a balloon payment which is valued at how much the dealer expects your car to be worth at the end of the deal. It is important to note that will end up returning their car before signing a new deal, with just 20% settling the final amount and owning their vehicle.
Hire Purchase
If a PCH or PCP finance option does not seem like an affordable option for you then a hire purchase. This is a loan that is secured against the car throughout the time that you own it. It will require you to pay off the rest of the value of the car between a  . The rates are often more competitive with new cars and less for used cars with the annual percentage rate between 4-8%.
Due to the loan being secured against the car, you will not own the car outright until you have made the final payment. If you do decide to keep the car, you will be met with an option to purchase fee which is typically between one to two hundred pounds.
Government Grant For Electric Vehicles
If you are looking to purchase an electric vehicle there is a plug-in grant that you may be eligible for from the government. This grant covers the purchase of cars, vans. Motorcycles. Mopeds, taxis and of the vehicle. A category one vehicle will, therefore, be eligible for a maximum payment of up to £3,500.
This is a cash incentive implemented by the British government to reduce Co2 emissions and encourage people to make the switch to low-emission cars. Though this is a slow-moving process, companies such as Tesla and Nissan are leading the way with electric cars that cover all budgets, making this new technology more accessible to a wider audience.
Part Exchange Options
If you are looking to purchase a car from the same dealership, there are a number of dealerships that offer part exchange options. Though this is slightly different from a conventional option, this can give you a lump sum to put towards a newer model. Before part exchanging, it is important to know the value of your car as a dealer could try and pay you less than it is worth in order to make a profit. By doing your research and negotiating properly, you can then get the best possible deal without having to go through the hassle of selling privately.
With this in mind, there a number of ways that financial institutions are helping to make the process of purchasing both new and used cars more affordable in the long term. As more customers continue to look for financial options to help pay for their cars there is set to be fluctuations to the industry as they begin to offer better prices to gain business.