Reporting on the IMI's annual design competition for schools in partnership with Sytner Group.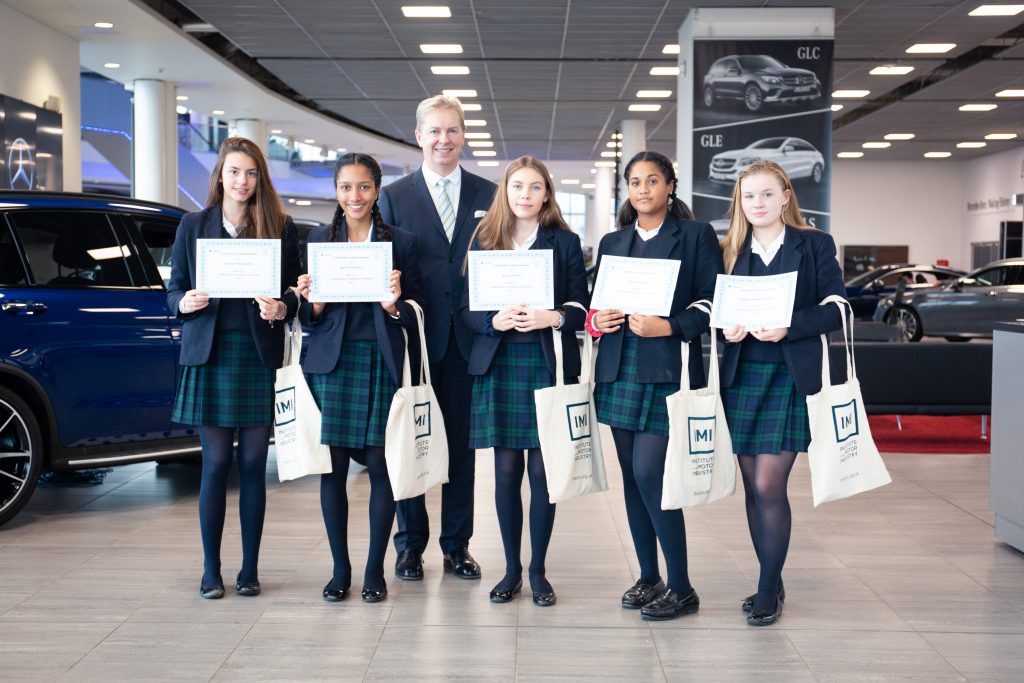 The task is to design a new car, teachers are able to download the necessary materials from the IMI's careers website autocity.org.uk and deliver a two-hour lesson plan formulated to inspire students to be both creative and use business skills – with a particular focus on identifying the target audience and imagining product USPs. http://www.autocity.org.uk/index.php/competitions-events/
The 2018 competition winners were year-nine students from Felstead School in Essex. Annie, Anna, Olivia, Nyah and Alexia all wowed the judges with their car design featuring fingerprint entry, an in-car 'Alexa' feature, and an emergency SOS button. As a reward for their impressive efforts, the students were treated to a Mercedes Benz-World experience organised by Sytner Group.
On the day, they enjoyed rides around the test tracks and were taken on a tour of the venue which included a fascinating story on the origins of Mercedes Benz. This was followed by a series of races in F1 simulators to see who could get the fastest lap.
The day concluded with a careers talk and certificate presentation delivered by Melvin Rogers FIMI, HR director for Sytner Group (pictured with the winning pupils). Speaking to IMI Magazine at the event, Melvin explained the rationale behind his company's involvement in the competition. "In the Sytner Group, we have career opportunities in areas as wide ranging as finance, software development, property management, HR, learning and development and marketing, to name but a few. The more we go into schools the more we realise that there simply isn't the awareness of the varieties of careers in the industry and so we are delighted to partner with the IMI to help remedy the situation."
As the old adage goes, the proof is in the pudding and one of the winning pupils, Olivia, was keen to express how much she had enjoyed the experience. "My favourite part of the day was the tour and I found it inspiring to know how Mercedes Benz began," she said. "It opened my eyes to what the automotive industry has to offer in terms of job roles."
The IMI competition runs throughout the academic year and is open to all schools. You can find further information at autocity.org.uk and this year's closing date is 19 July. It is free to enter. http://www.autocity.org.uk/index.php/competitions-events/